Introduction to Negotiating & Drafting SaaS Agreements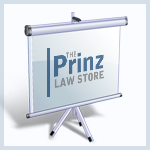 Date & Time: December 14, 2020, 10-11:30 a.m. PST
Price:  $150 General Admission, $175 Last Minute & On-Demand
How are SaaS agreements unique from other technology contracts? What do you need to know to negotiate and draft them?
Silicon Valley SaaS lawyer Kristie Prinz will present an introductory webinar on December 14, 2020 at 10 a.m. PST on "Introduction to Negotiating & Drafting SaaS Agreements," which will provide an overview of the basic concepts that you need to know before attempting to negotiating and draft a SaaS contract. In the webinar she will address:
Key differences between SaaS contracts and other technology contracts
Essential SaaS contract terms
Where SaaS relationships can go wrong
Ms. Prinz is a SaaS, software and technology transactions attorney in Silicon Valley who has been representing early stage, small, and mid-market software companies for more than 20 years. Ms. Prinz is a nationally-recognized speaker, media contributor, and author of the Silicon Valley Software Law Blog. Ms. Prinz has developed particular expertise in the fields of SaaS and digital health transactions. She graduated from Vanderbilt Law School and is licensed to practice in the states of California and Georgia.
To register for the webinar